Should You Back Up Your iOS Device to iCloud or iTunes?
Posted on August 19th, 2014 by Kirk McElhearn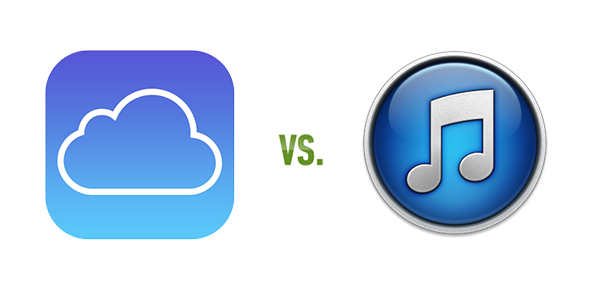 Last week, we showed you how important it is to back up your data and some of the different backup options for Mac that you have available, and also explained how to keep your Mac backed up with and without Time Machine. After all, if you don't back up regularly, you could lose essential and irreplaceable files.
The same is true for your iPhone or iPad. While you may not have a lot of documents on these devices that aren't stored on a cloud server—which you can easily retrieve if necessary—you are likely to have photos and videos which, if you haven't backed up, could be lost. Additionally, it can take a long time to re-create the setup of your iOS device; re-downloading all your apps, entering your user information, and organizing them on home screens can be a tedious process.
If you have a problem and need to restore your iOS device, it's easy to do from an existing backup. But if you haven't backed up your iOS device yet and want to prepare ahead of time, you might be wondering: should you back up your iOS device to iCloud or iTunes?
Backing Up to iCloud
Backing up your iPhone or iPad to iCloud is simple. This can happen automatically, when your iPhone is plugged in, locked, and connected to a Wi-Fi network. You can also manually initiate a backup to iCloud.
To turn on iCloud backups, go to Settings > iCloud > Storage & Backup. Tap the iCloud Backup toggle to turn this feature on. If you want to back up your device right away, tap Back Up Now. An iCloud backup can take a while the first time, especially if your network bandwidth is slow. But subsequent backups are quicker, because the device only copies files and settings that are new or that have been modified.
By default, you have a free 5 GB iCloud account. You may wonder how you can backup, say, a 32 GB iPhone in such a limited amount of storage. The device actually doesn't back up many files; it backs up photos and videos, and settings, but mostly it stores a record of the apps installed on your iOS device and any other purchased content.
Here is what gets backed up when you use iCloud:
Purchased music, movies, TV shows, apps, and books
Photos and videos in your Camera Roll
Device settings
App data
Home screen and app organization
iMessage, text (SMS), and MMS messages
Ringtones
Visual Voicemail
Apple explains further in a support document discussing iCloud backups:
"Your iCloud backup includes information about the content you have purchased, but not the purchased content itself. When you restore from an iCloud backup, your purchased content is automatically downloaded from the iTunes Store, App Store, or iBookstore based on iTunes in the Cloud availability by country. Previous purchases may be unavailable if they have been refunded or are no longer available in the store."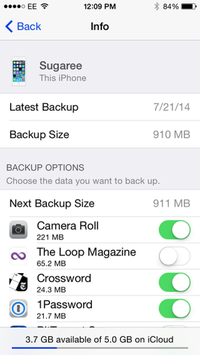 Nevertheless, you may need to trim your backup to store everything on iCloud (or buy additional storage). To do this, go to Settings > iCloud > Storage & Backup > Manage Storage, then tap on the name of your device. (If you have more than one device linked to your iCloud account, you'll see them all here.) On this screen, you can choose exactly what gets backed up to iCloud. In most cases, the biggest share of your backup will be photos and videos that you've shot; these are shown as Camera Roll. Think about offloading some of these photos to your Mac from time to time to make backups smaller and faster.
If you swipe up, then tap Show All Apps, you'll see all the apps that get backed up to iCloud. Tap any of the toggles next to the apps listed on this screen to turn off iCloud backup for their data.
You can exclude lots of apps from your iCloud backup. This will not only save space, but it will make backups quicker. However, think about not excluding apps where you have entered specific settings, such as a user name or other information: if so, you will have to re-enter the settings if you restore your device.
Backing Up to iTunes
Backing up an iOS device to iTunes is easy, and much quicker than backing up to iCloud, because the data just goes over the cable that connects your iOS device to your Mac. However, these backups only occur when you sync your device. Some people sync their iOS devices every day; other people never sync them. If you're one who syncs regularly, then it's a good idea to back up your device to iTunes. (If not, you should consider syncing at least once a week.)
When your iOS device is connected to your Mac, click on it, then click the Summary tab. In the Backups section you'll see this:

If you have checked This Computer, iTunes will back up your device every time you sync it. It's quick and easy, and since you have plenty of storage on your Mac, there are no options to exclude specific apps.
Two Backups Are Better Than One
So which is better: backing up to iCloud or to iTunes? Actually, it's best to use both. Having a local backup is much more efficient; if you have to restore your device, you'll save a lot of time restoring it in iTunes from your local backup. You also have all of your content synced to the device when you restored – not only what has been backed up, but all of your music, podcasts and books that you didn't buy from Apple. If you've backed up to iCloud, you'll eventually have to sync your device anyway to restore that content.
However, if you're on the road, far from your Mac, and you need to restore an iOS device, it's good to know that you have an iCloud backup. This lets you get your apps back quickly, so you can use your device.
The best solution is to regularly backup your iOS device to your Mac using iTunes, and occasionally—say, once a week—back it up to iCloud. If you travel a lot, you might want to turn on iCloud backups on your device, and turn it off when you get home and sync with your Mac. With both types of backups, you're fully protected. Should you need to restore your device, you'll be able to do so quickly and easily if you have access to your Mac, and, if not, iCloud can step in.
How often do you back up your iOS device? Do you back up to iCloud or iTunes – or both? Which do you prefer and why? Drop us a comment below!  
About Kirk McElhearn
Kirk McElhearn writes about Macs, iPods, iTunes, books, music and more on his blog Kirkville. He is co-host of the Intego Mac Podcast and PhotoActive, and a regular contributor to The Mac Security Blog, TidBITS, and several other websites and publications. Kirk has written more than twenty books, including Take Control books about iTunes, LaunchBar, and Scrivener. Follow him on Twitter at @mcelhearn. View all posts by Kirk McElhearn →